Kynol NOVOLOID FIBERS
Kynol

, generally known as novoloid fiber, is characterized by its high flame and chemical resistance. Novoloid fiber technology was initially developed in the United States with commercial production facilities later established in Japan. End uses for Kynol

are varied and business development is focused primarily on specialty applications.

Made from an organic formula derived from three-dimensional cross-linked phenolic resin, Kynol

exhibits unique properties that provide a distinct advantage in applications as diverse as electric arc protection, gaskets, mechanical packing and friction paper. Over the years, Kynol

has also replaced asbestos in various industrial applications and is used as a precursor for carbon and activated carbon fibers materials.
Key characteristics of Kynol fibers, yarns and fabrics
Flame Resistance:
・Inherently flame resistant (contains no halogen or phosphorus)
・Limited oxygen index (L.O.I.) between 30 - 34
・Exhibits minimal shrinkage and smoke emission when exposed to flame
・Will gradually char until carbonized completely
・Due to 3-dimensional cross-linked chemical structure, the fibers are thermoset and will not melt
・Can withstand short-term heat exposure in temperatures > 1000C
・When exposed to extremely high air temperature the fibers carbonize and gradually decompose
・In conditions where there is long-term heat exposure, Kynol

is recommended for temperatures < 150˚C (300˚F) in air and < 250˚C (482˚F) in absence of air

Chemical resistance:
・Strong resistance to acids, alkalis and organic solvents.
Main methylol groups found in Kynol


cross-linked to composite material to create a chemical bond.

Typical properties
| | |
| --- | --- |
| Color | Gold |
| Diameter | 14~33μm |
| Fiber length | 1~100 mm |
| Specific gravity | 1.27 |
| Tensile strength | 13~18cN/tex |
| Elongation | 10~60% |
| Modulus | 3000~4000 N/mm2 |
| Moisture regain | <6.0% |
| Combustibility (L.O.I) | 30~34% |
| Heat resistance | 150~250℃ |
| Specific heat | 1.6~1.8 J/g.℃ |
| Thermal conductivity | 1.3~2.5×10-4 W/m.K.℃ |
| Coefficient of thermal expansion | 10~30×10-6/℃ |
Thermo-Gravimetric Analytics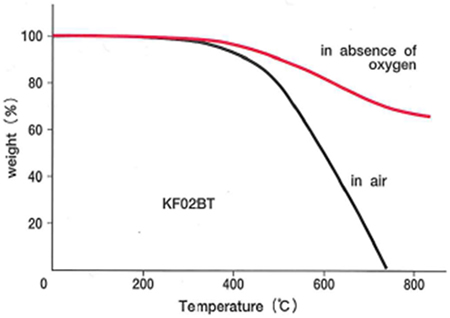 Smoke Emission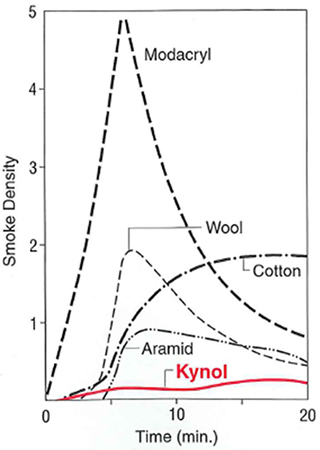 Chemical resistance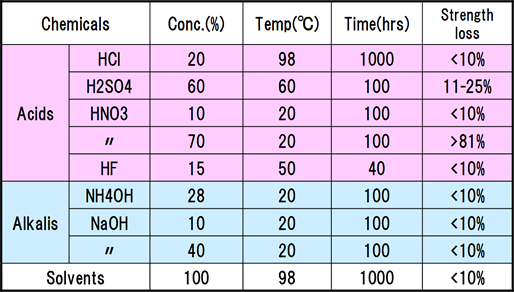 Affinity with resin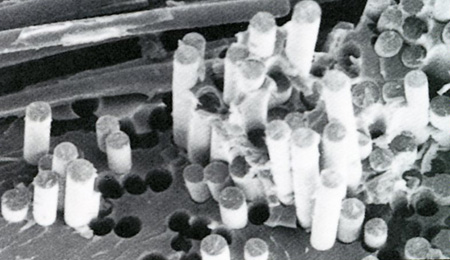 Kynol

novoloid-based carbon products are well regarded for their high flexibility and workability (low modulus) and for excellent compatibility with resins and elastomers.

Kynol products
Fibers

Staple: 2-5d x 51, 70, 100mm
Non crimp & crimped

Chopped 6mm

Milled
2d, 5d, 10d

Applications
・Joint Sheet
・Packing, Gasket
・Fire blocking layer
for Seat
・Additive for FR materials
・Heat Insulators
・Clutch papers
・Woven Blake, Blake lining, Pad
・Industrial apparel, gloves
・Fire-fighting garment
・Electric cable cover
Yarns

Spun Yarns
Tow
Felts

Weight
80~300g/㎡
Woven fabrics
Weight
100~300g/㎡
Aluminized
Weight
430~590g/㎡
Carbon Fibers
Kynol novoloid-based carbon products are well regarded for their high flexibility and workability (low module) and for excellent compatibility with resin and elastomer.
Activated Carbon Fibers
Kynol activated carbon products combine high effective surface area with good textile properties, and are available in wide range of forms including fibers, tows, felts, fabrics and papers.
Typical properties
Carbon Yarn

Carbon yarns
1.0~3.0g/m
Packing
High-temp.
insulator
Carbon Cloth

Weight
300g/㎡ 95 wt.%
Carbonized
Activated Carbon Fibers

Specific surface
area BET 800~2,000㎡/g
Air filter
Mask filter
Water filter
Electrode
for EDLC
Adsorbent
for solvent
recovery
apparatus
Activated
Carbon Felt
Weight 70~200g/㎡
Specific surface
area BET 800~1,800㎡/g
Activated
Carbon Cloth
Weight 90~200g/㎡
Specific surface
area BET 800~1,800㎡/g

Product list
From milled and staple fiber to yarns, fabrics and carbon precusors, our products address a wide variety of needs. Numerous products are available as regular production items. Please contact us to choose appropriate product for your application or to discuss development of a product to meet your specific requirements.

The below links provide our typical products for your reference:
Inquiries regarding products and solutions
Inquiries
Inquiries regarding company information accepted via phone and e-mail.
Strategy-planning & Task Force Office
797-6 Shukuorui-machi, Takasaki-shi,
Gunma 370-0032, Japan
TEL +81-27-353-1800

Adobe Reader

Adobe Reader is required to view the PDF files provided on the GCI website. Please click on the icon to download the latest version from Adobe.