Spherical phenolic resin "Marilin"
What is "Marilin"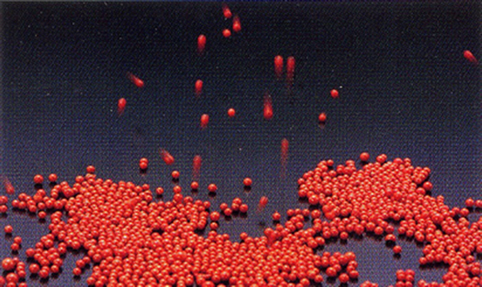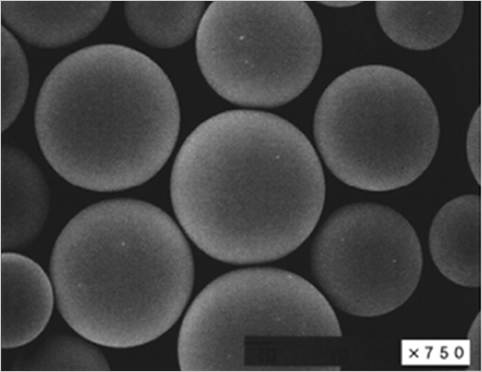 Spherical phenolic resin synthesizes with
innovative polymerization utilizing interfacial property.

・Various particle sizes are available from several to 8 hundreds micro meters.

・Smaller angle of repose compared with normal phenolic resin, so mold used single component of phenolic resin is possible.

Features
Excellent in granular fluidity due to special high-spherical particle.
Contain no corrosive substances such as chlorine.
By carbonizing Marilin-HF (Completely thermal cured type), easily obtain spherical carbon or spherical activated carbon materials.
Because of rigid and even surface, powder dusts are hardly generated.
Sharp particle distribution and it is possible to control distribution of particle size.
Typical particle diameter distribution of Marilin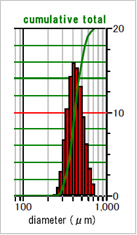 Applications
Preliminary material for carbon or activated carbon
Blast materials
Small particle powder to remove burrs of plastic molds.
Abrasive powder to polish surface of plastic molds.
Pore formation material
Add small portion of Marilin in heat-resistant bricks to make pores after carbonization process.
Abrasion materials
Improvement additive for resins
Filler (electrical insulating filler
Spacer for glassware industry
Conveyor materials
Compound material as carbon
Active material for negative-electrode of Lithium-ion battery.
Abrasive materials
Electrically conductive filler
Additives for casting mold
General products
Article No.
Curing level
Average diameter
(μ)
Bulk density
(g/cm3)
Remarks
HF-250
Completely cured
230
0.83
Resole resin based
HF-500
〃
480
0.85
〃
HF-750
〃
750
0.83
〃
Example of Custom-made products
Article No.
Curing level
Average diameter
(μ)
Bulk density
(g/cm3)
Remarks
HF-020
Completely cured
20
0.75
Resol resin based
HF-100
〃
100
0.77
〃
GC-020
Carbonized
17
N/A
Carbonized HF series
GC-100
〃
72
N/A
〃
Required pilot plant quantity (approx. 100kgs) per order,
for your custom-made product trial.
Inquiries regarding products and solutions
Inquiries
Inquiries regarding company information accepted via phone and e-mail.
Strategy-planning & Task Force Office
797-6 Shukuorui-machi, Takasaki-shi,
Gunma 370-0032, Japan
TEL +81-27-353-1800

Adobe Reader

Adobe Reader is required to view the PDF files provided on the GCI website. Please click on the icon to download the latest version from Adobe.