Reactive Polyimide GPI series


Polyimide is known to have excellent heat resistance and mechanical properties. However it is also true that Polyimide has some difficulties regarding workability due to its insolubility and non-melting factors.
GPI is solution for the above-mentioned problem. In addition GPI add new functions, then you can spread your imagination by using this GPI.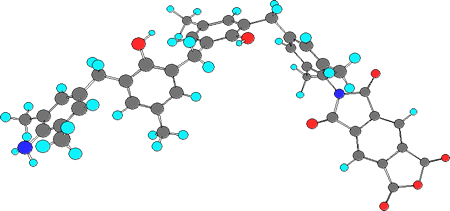 Features
The chemical structure of GPI has already circularized, so it is superior in preservation stability. You can preserve at normal temperature.
GPI has high solubility for various solvents
You can easily produce film on various type of materials, such as plastics or metals.
The phenolic hydroxyl group in chemical structure brings almost same reactivity as usual phenolic resins even polyimide shows lower reactivity.
High heat resistance
High adhesion on film
High water resistance
Easy preservation
Easy workability
Easy modifications

Preservation stability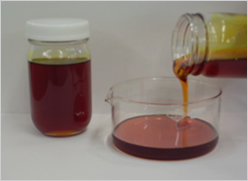 Circularized structure brings it to preserve easily at room temperature.
Solvent solubility
GPI has high solubility for various solvents.
| Solvent type | Name of solvents |
| --- | --- |
| Containing Nitrogen | NMP, DMF, DMAC |
| Ketone | MEK, MIBK, Cyclohexanone |
| Alcohol | Benzylalcohol, BC |
| Others | THF, Phenol, BCA |
Film workability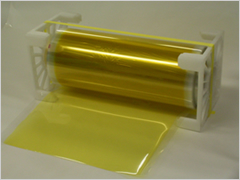 GPI can dry at temperature of Boiling Point of above-mentioned solvents. For example, in the case of MIBK solution, you can easily dry the film at 120℃ on the PET film.
And GPI film shows high adhesion then heat pressure lamination is possible on various materials.
Ability of the modification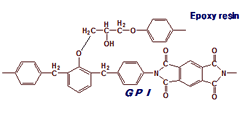 The phenolic hydroxyl group in GPI structure brings almost same reactivity as usual phenolic resins.
That's why GPI reacts with general epoxy resins as shown below.

Line up of GPI series
item
unit
GPI-NT
GPI-HT
GPI-LT
GPI-LM
Type
Non-Thermoplastic
High heat resistance
High elongation
Low elastic modulus
Non-volatile
%
20
30
35
40
Solvent type
-
NMP
DMAC
THF
MEK
MIBK
Cyclohexznone
MIBK
Cyclohexznone
MIBK
BC
BCA
Cyclohexznone
Prevention condition
℃
≦ 25
≦ 25
≦ 25
≦ 25
T.g.
℃
-
200
150
55
5% Thermal
decomposition
℃
405
410
445
410
Elastic modulus
GPa
2.0
1.0
0.5
0.005
Peel adhesive
N/cm
11
14
18
11
Elongation
%
4.0
7.0
200
315
Water absorption
(121℃/24hours)
%
0.9
0.9
0.8
0.7
We can provide not only the above-mentioned products,
but your required products if we can develop.

Please contact us to order for more information.
Inquiries regarding products and solutions
Inquiries
Inquiries regarding company information accepted via phone and e-mail.
Strategy-planning & Task Force Office
797-6 Shukuorui-machi, Takasaki-shi,
Gunma 370-0032, Japan
TEL +81-27-353-1800

Adobe Reader

Adobe Reader is required to view the PDF files provided on the GCI website. Please click on the icon to download the latest version from Adobe.