What is

is self-curing mold production system under normal temperature.
This system is established with our developed safety organic curing agent.
We can provide our several phenolic resins for stronger,
low odor and high quality cast.

Waterborne alkali phenolic resin is much safety product,
and various organic esters can cure it, with various curing time.
To use the feature, we develop α-system to control curing time of mold.
It is possible to use some organic esters as curing agent in one mold,
to adjust curing time each parts of mold.

We provide all necessity explanation of features of
our phenolic resins and curing agents fully,
in order to be used our products and system safety and exactly.
And we will support you totally,
including temperature auto-control equipment to control curing speed.
Features
Workable with various types of sand like Silica sand ,special sand, ceramic sand, etc.
Better working circumstance, due to extremely lower odor,
smoke and harmful gas, while molding, pounding and crushing.
Flexibility of mold brings decreasing problem of veining and hot tearing.
Higher heat strength is effective to prevent burning on and provides good casting surface compared with other self curing process.
Low viscosity then easy handling
Evolution of
Excellent strength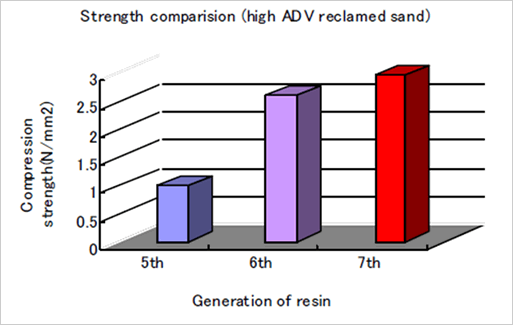 Excellent mold strength at high ADV reclaimed sand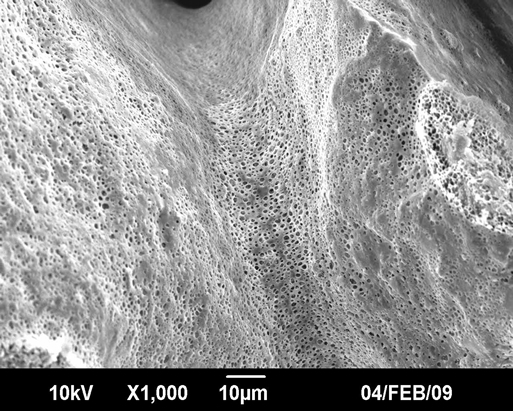 Breaking stress of mark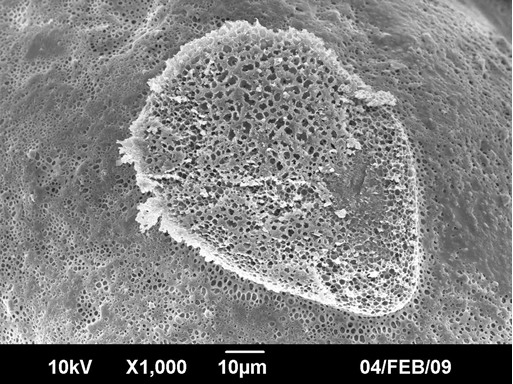 Low number of emission brings environment friendly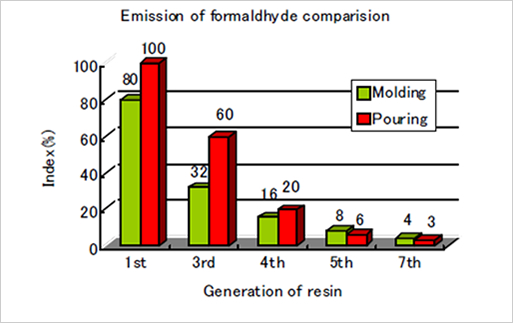 Resin:AR-170
Properties of resin
| | |
| --- | --- |
| Resin name | AR-170 |
| Appearance | Reddish brown color, water solubility liquid |
| Viscosity(mPa・s 25℃) | 20~60 |
| Specific gravity(25℃) | 1.19~1.21 |
Mold strength performance with different types of sand
Properties
| | AFS | LOI(%) | ADV(ml/50g) | pH |
| --- | --- | --- | --- | --- |
| Japanese silica sand | 57.2 | 0.15 | 0.7 | 7.1 |
| Australian silica sand | 62.3 | 0.03 | 0.1 | 7.8 |
| High ADV reclaimed sand | 46.2 | 0.32 | 17.0 | 10.6 |
Strength comparison with new sand

Strength comparison high ADV reclaimed sand

Mold strength is effected by the properties of sands and reclaimed condition.
AR-170 corresponds greatly with the properties of both new and reclaimed sand.
AR-170 can offer high quality mold with excellent casting products.
Inquiries regarding products and solutions
Strategy-planning & Task Force Office
797-6 Shukuorui-machi, Takasaki-shi,
Gunma 370-0032, Japan
TEL +81-27-353-1800

Related information/Related products
AR-156
AR-158
AR-170
AR-171
AR-172T
AH-506
AH-508
AH-510
AH-520
AH-530
Inquiries
Inquiries regarding company information accepted via phone and e-mail.
Strategy-planning & Task Force Office
797-6 Shukuorui-machi, Takasaki-shi,
Gunma 370-0032, Japan
TEL +81-27-353-1800

Adobe Reader

Adobe Reader is required to view the PDF files provided on the GCI website. Please click on the icon to download the latest version from Adobe.